Herman Benjamin (1900-1983) was born in Baltimore, Maryland to Nathan (born 1870) and Fannie Benjamin. In 1896, before Herman's birth, his parents and older siblings immigrated from Germany by way of Sussex, England. The family lived in the Chesapeake area for nearly 20 years, where Nathan Benjamin worked as a guano dealer and later as a wool and textile salesman. By 1920, Herman Benjamin had moved to Elloree, South Carolina. There, he worked as a dry goods salesman and boarded with his half-brother, Harry Becker (1899-1981). By 1923, Benjamin had moved 19 miles southwest to Bowman. By the mid-1920s, he had established a clothing and shoes store in Bowman, which eventually became Benjamin's Department Store. Despite being robbed several times, in 1929 he bought J.H. Whetsell's store in St. Matthews, and in 1939 purchased Mirmow's store in Orangeburg. Through these and other expansions, Benjamin's existed in Bowman, St. George, St. Matthews, Eastover, Orangeburg, Hampton, Walterboro, and Bamberg. Save for a brief period in 1945 when the Bowman store closed, it operated out of the aforesaid towns for most of the 20th century. From the 1950s through the 1970s, Benjamin's in Orangeburg, the largest city in the area surrounding Bowman, advertised frequently in the Times and Democrat. In the 1960s and 1970s, Benjamin's son, Irving (1922-1998), managed the business. Irving Benjamin retired in the mid-1970s, and the Benjamin's in Bowman closed.
Main Image: Party for Benjamin & Co. employees. Reprinted from The Times and Democrat, December 27, 1953.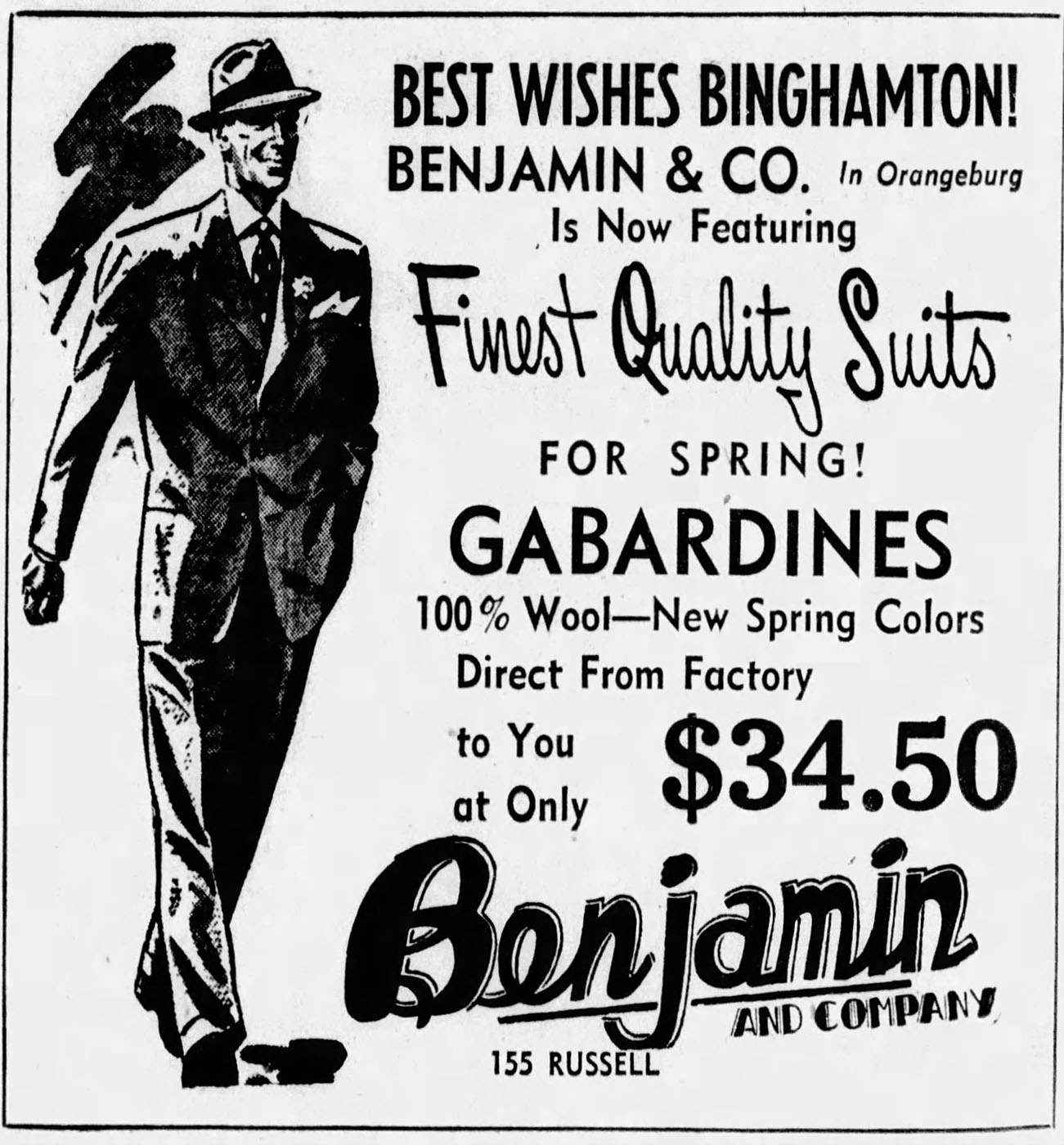 Above: Benjamin & Co. advertisement. Reprinted from The Times and Democrat, March 29, 1949.