Morris Ness (1887-1975), a Polish immigrant, moved to Manning, South Carolina from New York around 1910. Ness worked as a salesman in the store of David Hirschman (1871-1932), before he opened his own dry goods and clothier business, Everybody's Store, in 1913. After much initial success, Ness moved Everybody's Store to a larger building. Everybody's Store closed prior to the opening of The New Idea Co. by Ness in 1914. Ness's brother, Benjamin (1890-1956), helped run Everybody's Store.
Main Image: Reprinted from The Manning Times, July 23, 1913.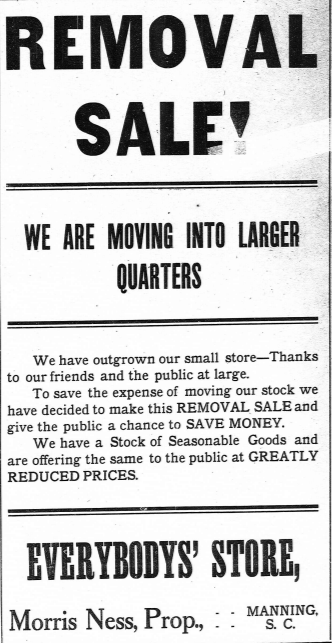 Above: Reprinted from The Manning Times, December 31, 1913.