The son of Russian immigrant Paul Garber (1886-1950) and Sumter native Tillie Morris (1890-1983), Leon Garber (1923-2012) inherited part of his father's department store chain, Garber's. Garber's department stores operated locations in Batesburg, Denmark, Allendale, and Columbia. In 1955, Leon's brother, Julius Garber (1915-2005), and sister-in-law, Bessie Brenner Garber (1919-1987), bought out his share of the Denmark, Batesburg, and Columbia stores. That year, Leon opened shoe store Garber's Shoes at 716 Saluda Avenue in Columbia's historic Five Points commercial district, across the street from the Garber's store owned by his brother and sister-in-law. Leon's business venture proved successful, as in 1960 he opened a Garber's Shoes in nearby Trenholm Plaza. Garber's Shoes in Trenholm Plaza closed in 1989.
Main Image: Garber's Shoes in Trenholm Plaza, 1960. Courtesy The State Newspaper Photograph Archive, Richland Library, Columbia, S.C.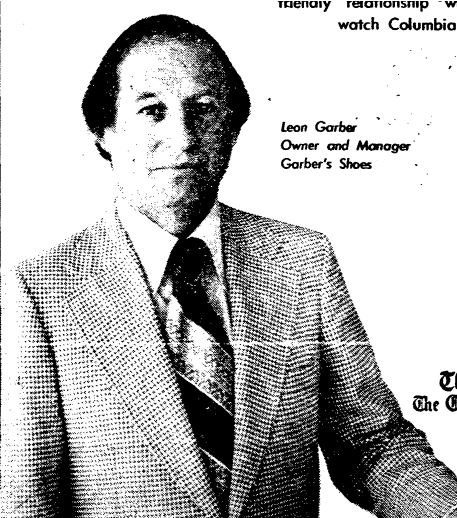 Above Image: Leon Garber, 1975. Reprinted from The State, August 12, 1975.