Gershon Gelbart (1906-1978) was born in Mogielnica, Poland in 1906. He worked as a tailor in Poland until 1928, when he immigrated to the United States. Upon his arrival in New York City, he changed his first name to George and adopted his mother's maiden name, Goldberg. While in New York City, George lived with his uncle and aunt. During the day, he worked in the garment district, sewing ladies' dresses and coats. At night, he went to school to learn English.
After two years in New York City, George moved to Charleston, South Carolina, where his oldest brother, Israel Goldberg (1893-1960), lived and operated an Army-Navy store at 587 King Street. Staying with Israel was the brothers' father, Chaim Gelbart (c.1870-c.1939), who was visiting from Poland. Despite Israel's insistence that his father stay in Charleston and bring the rest of the family to the United States, Chaim found it difficult to adjust to the secular, non-kosher life and decided to return to Poland around 1930. Sadly, Chaim, his wife Toba (1872-c.1939), and their five children and their families still in Poland all died during the Holocaust. George worked in his brother's store from 1930 to around 1932. By December 1933, George had opened his own men's and boys' clothing store at 511 King Street–he and his family lived above the store. From his business, George not only sold clothing but–being a master tailor–also handled alterations. By 1936, he relocated his business down the street to 569 King. His clientele at that time mostly consisted of men from Charleston and North Charleston's Black communities. Like many of the other Jewish merchants on King Street, George elected to keep his store open on Saturdays, the busiest day of the week. According to his daughters Helene Goldberg Scharff and Faye Goldberg Miller, business was very good during World War II as sailors from other countries whose ships were anchored in Charleston harbor would venture into the city to buy "American" clothing. By 1953, George had relocated his store again, this time to a new, yellow brick building at 555 King Street. He remained at that address until his retirement in 1976. After retiring, George worked from home part-time by doing alterations for local laundries until his death in 1978.
Throughout the history of Goldberg's Men's Store, family members and employees contributed much to its success. George's wife, Jeanette Altman Goldberg (1912-1972) worked as the store's cashier for many years. Originally from Kaluszyn, Poland, she arrived in Charleston with her mother, Wittel Altman (1874-1960), and seven siblings in 1920. There, Jeanette and her siblings reunited with their father, Charles Altman (1875-1923), who worked as a salesman. After Charles' death in 1923, Wittel ran a grocery store on the corner of Radcliffe and Jasper Streets to support her family. Jeanette and George married in 1933. Their two oldest children, Charles Goldberg (1933-2019) and Faye, worked in the store part-time during the early 1950s, and Helene helped gift wrap presents during Christmas at the 555 King location. Memorable employees included Jake Widlitz (c.1893-1969), a natural comedian who would entertain customers by singing all sorts of songs; Walter "Bolo" Berlinsky (1931-2009), a young Jewish man who helped on weekends; Grayson Reese (birth/death date undetermined), a charismatic Black salesman who had a knack for persuading people walking by to come in and shop; and Sol Center (birth/death date undetermined), a Jewish man who worked part-time. George's best friend, Max Hirsh (1894-1987), also occasionally worked in the store on weekends.
Main Image: Goldberg's Men's Store at 555 King Street, 1953. From left to right: Jeanette Goldberg, Sol Center, Helene Goldberg, Faye Goldberg, and George Goldberg. Courtesy of Special Collections, College of Charleston Libraries.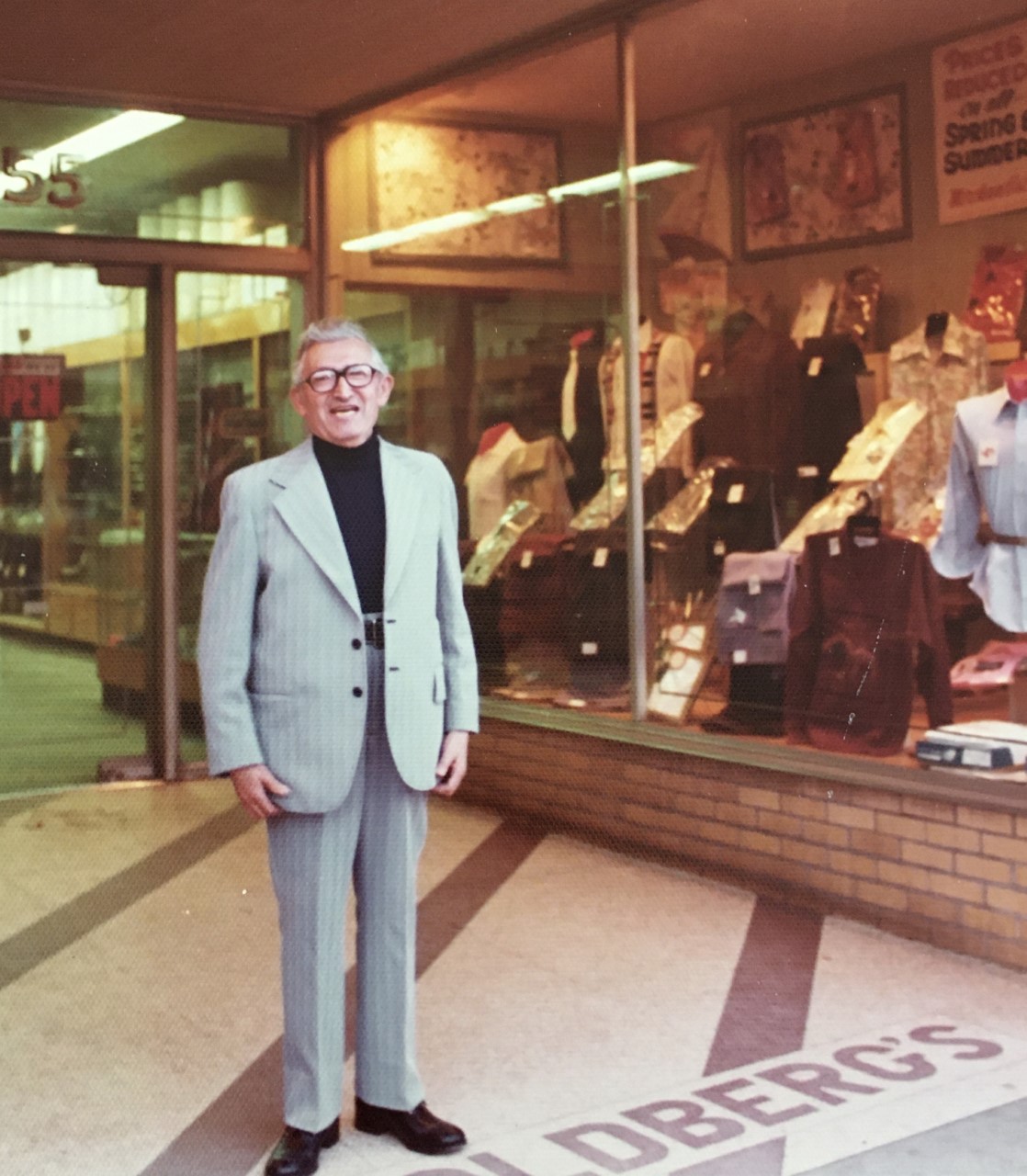 Above Image: George Goldberg in front of his store at 555 King Street, c.1970. Courtesy Helene Goldberg Scharff.