A Polish immigrant, Benjamin Ness (1890-1956) moved from New York to Manning, South Carolina by 1910 to join his brother, Morris Ness (1887-1975). The brothers worked as salesmen in David Hirschman's (1871-1932) store, until Morris opened a dry goods and clothing store, Everybody's Store, in 1913. Benjamin worked for his brother as a salesman at Everybody's Store, and the subsequent The New Idea Co., a clothing business Morris operated from 1914 to 1922. In 1921, Benjamin went into business with Harry Riff (c.1908-1948), a prominent Jewish merchant in Manning. The pair, along with Riff's relative, Morris Riff, founded Riff & Ness, which sold dry goods, clothes, and shoes. Benjamin's wife, Esther Berger Ness (1899-1976), worked as a saleslady at Riff & Ness. Riff & Ness closed by 1923. After Riff & Ness closed, Benjamin went back to work with his brother, Morris, who ran a business that sold clothes and shoes. After Morris's business went bankrupt in 1924, Benjamin and his family moved to Sumter, South Carolina, where he and Esther opened a ready-to-wear ladies clothing business, Ness'.
Main Image: Reprinted from The Manning Times, July 20, 1921.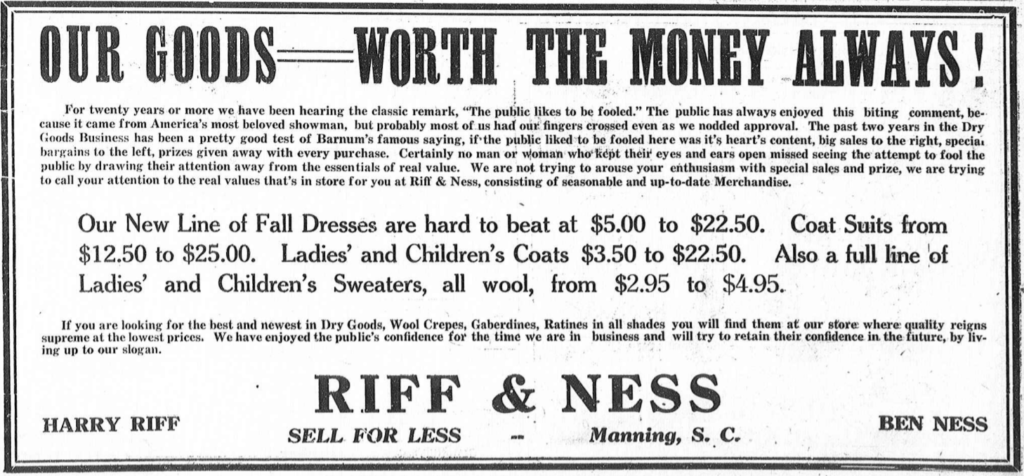 Above: Reprinted from The Manning Times, September 20, 1922.