Abrom Daitch (1884-1968) immigrated to the United States from Kobryn, Russia (present day Kobryn, Belarus) in 1903. After he arrived aboard the Pretoria, Daitch lived in New York until at least 1911 when he married Russian immigrant Rebecca Drucker (1888-1951). By 1916, he and his wife had moved to Edgefield, South Carolina. That year, he opened dry goods and clothing store Daitch Brothers' Bargain Store next to the Farmers Bank in that town. To stock his store, Daitch regularly traveled to the North, "where he personally selected the goods for every department," a practice typical of southern Jewish merchants during that time.
In 1920, Daitch relocated his store to the retail space below the Edgefield Opera House at 203 Main Street, and renamed it, simply, Abrom Daitch. Mrs. Daitch worked as a clerk at that store, and for a time managed a boarding house. The Daitches remained in Edgefield until the late 1930s, when they moved to Augusta, Georgia. There, Daitch became the proprietor of a furniture business.
Main Image: Reprinted from The Edgefield Advertiser, September 15, 1920.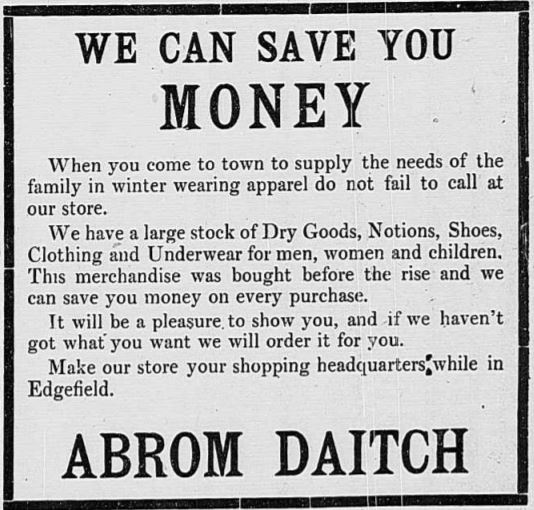 Above: Reprinted from The Edgefield Advertiser, November 1, 1922.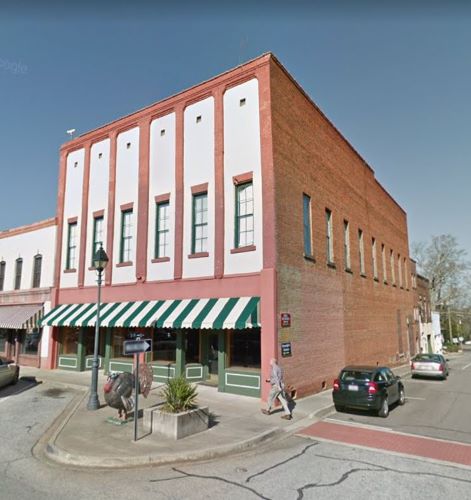 Above: Edgefield Opera House, 203 Main Street, 2017. Image from Google Maps.