Born in Hollenbach, Bavaria, Deopold Louis (1816-1885) arrived in Orangeburg, South Carolina prior to 1844. By that year, he had married Orangeburg native Ann Agnes Hall (1818-1905) with whom he had a daughter, Mary Christiana Louis Dibble (1844-1922). By 1850, Louis owned a plantation, as well as 13 slaves ranging in age from 2 to 60. According to the 1860 Census Non-Population Schedules, his plantation totaled 1900 acres, with 200 of it being improved, and was valued at almost $20,000 (about $710,000 in 2021 dollars). According to the census, he also owned 6 horses, 6 asses and mules, 8 dairy cows, 20 other cattle, and 40 hogs, valued at $4800 (about $170,000 in 2021 dollars). On his plantation, Louis grew Indian corn, cotton, peas, and sweet potatoes, and produced butter and hay. In addition to his plantation, he owned a general store in Orangeburg, D. Louis, from which he sold groceries, dry goods, and clothing. The store closed around 1880. During the Civil War, Louis served three months in the Confederate army with Company G of the 11th South Carolina Reserves stationed at Camp Pocotaligo near Beaufort, South Carolina. During that time, his wife and daughter assumed control of the plantation and the store.1
1 Louis, Deopold Daniel, Jason H. Silverman, and Susan R. Murphy. "'Our Separation Is like Years': The Civil War Letters of Deopold Daniel Louis." The South Carolina Historical Magazine 87, no. 3 (1986): 141–47.
Main Image: D. Louis advertisement. Reprinted from The Orangeburg News, December 17, 1870.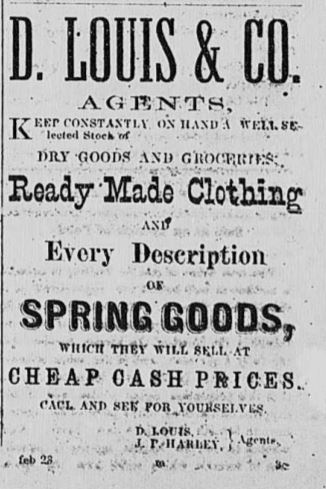 Above: D. Louis advertisement. Reprinted from The Orangeburg News. June 29, 1867.