Empire Linen Shop was established by four brothers born to Syrian immigrants, Samuel (1886-1956) and Rachel Arazie (1891-1997). Born and raised in Brooklyn, New York, David (1910-1997), James (1914-1993), Leon (1916-1991), and Raymond Arazie (1918-1989) moved to Columbia, South Carolina in 1937 to build their business empire. With assistance from their sister, Pauline (1923-1987), who served as an initial member of the sales team, the Arazie brothers merged four smaller businesses into Empire Linen Shop in 1938. Originally located at 1615 Main Street, the store was reportedly home to "the largest selection of imported and domestic laces in the South" and featured handkerchiefs, tablecloths, bed linens, and towels, as well as fine china, serving dishes, and tea sets.1 In 1944, the shop moved to 1631 Main Street, directly next-door to Tiny Tots Togs, another Arazie family business. In the early 1950s, James took ownership of the enterprise before turning the store over to his brother David in 1954. The family stopped placing advertisements and listings for Empire Linen Shop in the local newspapers and city directory in 1955.
1 "The Empire Linen Shop Combines 4 Store to Give Columbians Largest Selection of Fine Linens and Imported Laces in the South," Columbia Record, June 12, 1943, 11.
Main Image: An advertisement for Empire Linen Shop. Reprinted from The Columbia Record, March 24, 1943.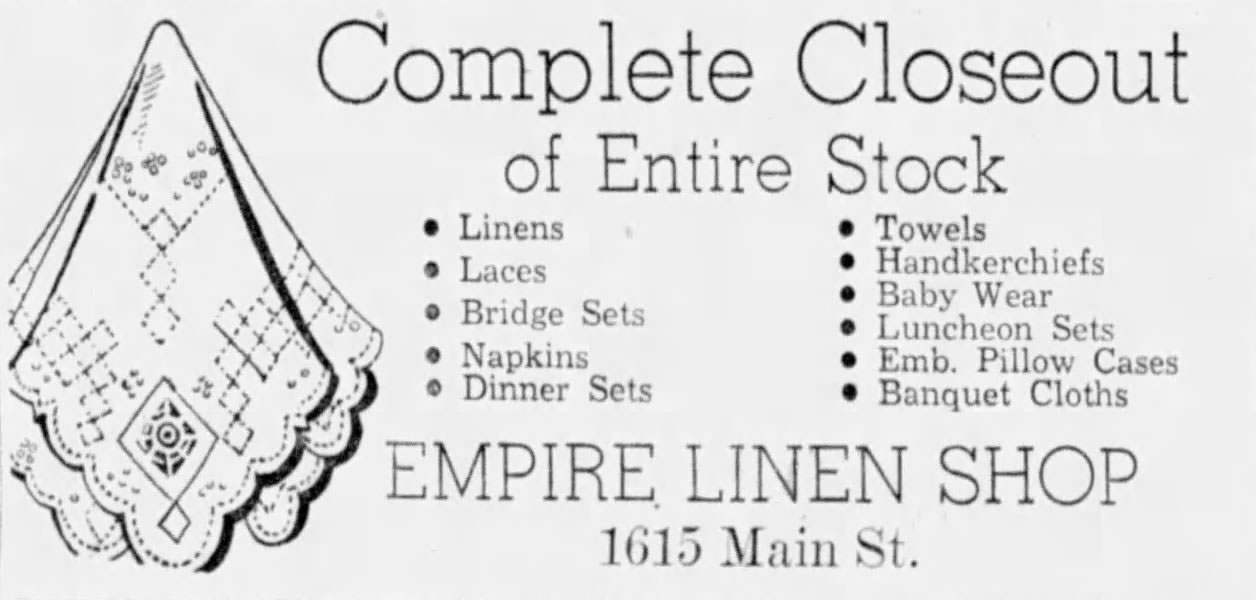 Above Image: An advertisement for Empire Linen Shop's stock closeout. Reprinted from The State, March 26, 1939.