Tiny Tots Togs was established in 1940 by five of the seven children born to Syrian immigrants, Samuel (1886-1956) and Rachel Arazie (1891-1997). Born and raised in Brooklyn, New York, the siblings moved to Columbia, South Carolina to build their business empire in 1937. One of the family's many companies was Tiny Tots Togs, a children's store located at 1635 Main Street. The shop's merchandise included nursery necessities like blankets and cradles, as well as clothing ranging from swimsuits to snowsuits and from corduroy overalls to cotton dresses.
Not long after the store's founding, at least three of the four Arazie brothers were called to war, leaving their youngest sister, Adele (1923-1987) to manage Tiny Tots Togs. During the war years, rations were placed on essential resources like leather and rubber, limiting the number of shoes each civilian could purchase to two or three pairs a year. Considering children's ever changing shoe sizes, Adele stocked footwear made primarily of non-rationed materials like synthetic leather and introduced the tagline, "the finest selection in town" to reassure customers that the Arazie's would continue to offer not only accessible, but high-quality products.
When World War II ended in 1945, the Arazie brothers—David (1910-1997), James (1914-1993), Leon (1916-1991), and Raymond (1918-1989)—resumed their responsibilities at the store. As the buying agent and public face of the company, David took sole ownership of Tiny Tots Togs in the early 1950s and ran the children's store with his wife, Grace Blondell Arrants Arazie (1915-2005). In 1962, David and Grace left their Main Street shops behind and moved to Charlotte, North Carolina.
Main Image: An advertisement announcing the opening of Tiny Tots Togs. Reprinted from The State, April 4, 1940.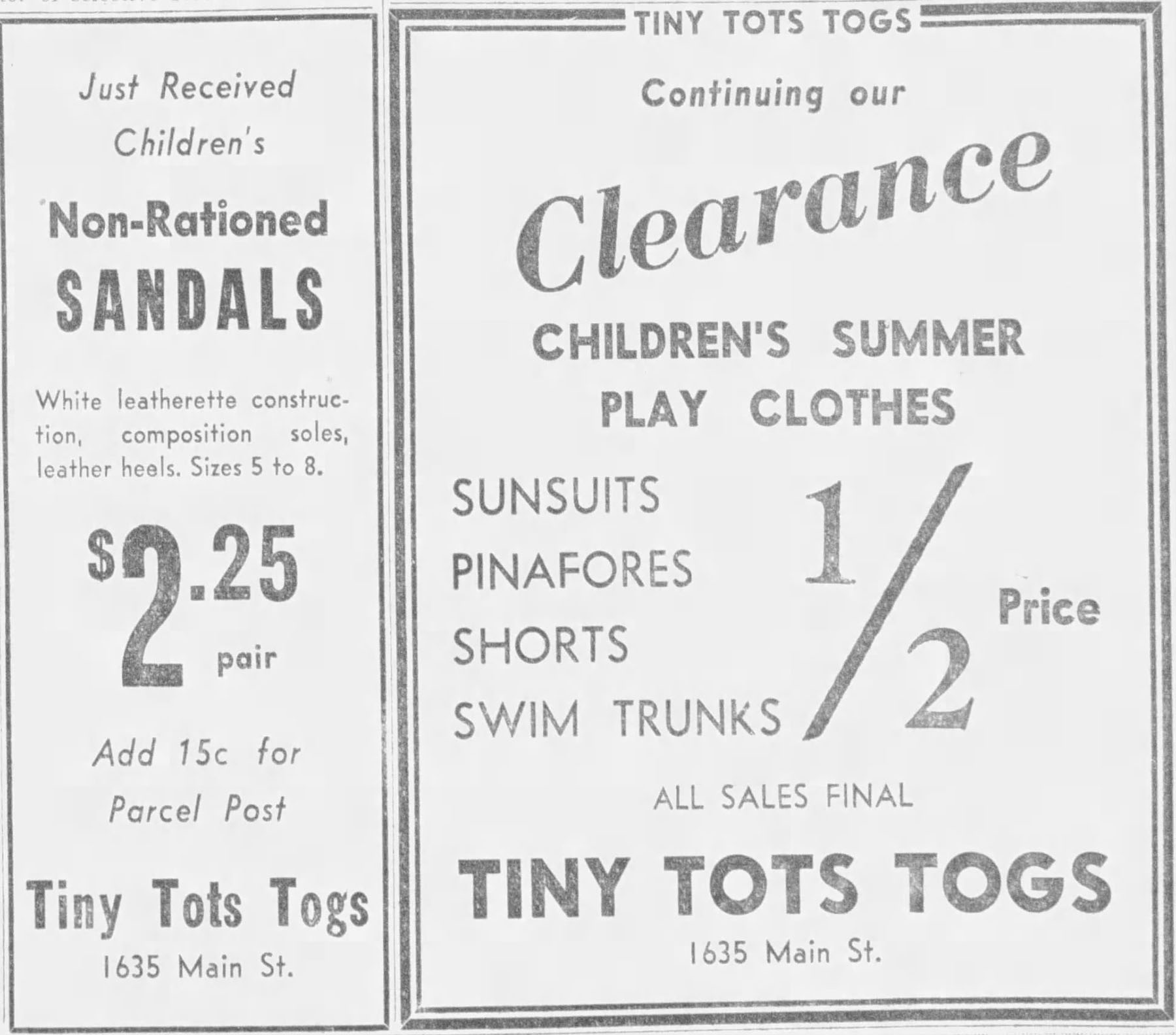 Above Image: An advertisement for Tiny Tots Togs featuring non-rationed sandals. Reprinted from The State, July 7, 1945.