Leon Ritter (1917-2010) was born in The Bronx, New York to Austrian immigrants Paul (1882-1952) and Mollie Brender Ritter (1886-1980). A fourth-generation furrier, Paul owned and operated Paul Ritter & Sons, a fur shop on 29th Street in Manhattan. At age fifteen, Leon joined his three older brothers, Daniel, Samuel, and Jacob, and began working in his father's shop, carrying on the family occupation. He started off sweeping floors and sewing together small scraps of fur at night. He then moved on to sewing together damaged skins. Once his father and brothers deemed him proficient, he was finally allowed to sew together undamaged skins.
During World War II, Leon served in the South Pacific with the army's 77th Infantry Division as a medic from 1942 to 1945. His military training took place at Fort Jackson in 1942, and it was in Columbia that he met Dorothy Kahn (1923-2009), whom he married in 1946. Following their marriage, the couple lived in New York until 1949, with Leon continuing to work in his father's shop. Aware that they could never own a store in their current situation, Leon and Dorothy returned to Columbia. There, they purchased a small fur shop at 1219 Bull Street called Arctic Fur Company and began selling and cleaning furs in a state known for its hot, humid environment. Despite the obvious challenges presented by the climate of the Southeast, Leon Ritter Furs—as the shop soon became known—proved successful, as it profited not only from the sale, repair, and cleaning of furs but also on cold storage (cold storage reduces the risk of fur losing its natural oils to evaporation; these natural oils help give fur its soft texture and pliability).
Expanding his business, Leon contracted M. B. Kahn Construction Company to remodel and add square footage to the store in 1958. A savvy businessman, in the 1970s Leon developed an "environmentally compatible" product to clean furs called Ritter/Fur/Kleen, which he vacuum-packed in the store and sold semidried to furriers across the world. This solution proved especially profitable as the federal government began to prohibit dangerous chemicals used to clean garments. In the early 1990s, the sidewalk outside the shop became the site of at least three protests by animal rights activists, who questioned the morality and necessity of wearing fur. Despite these protests, business carried on into the twenty-first century. After Dorothy and Leon passed away, their son, Stephen, who became a sixth-generation furrier in 1977, carried on the family business until 2014. From the 1970s through the 1990s, the Ritters' oldest child, Deborah, also helped around the store, modeling furs, helping customers to their cars, and handling fur pickups and deliveries.
During his career, Leon was a distinguished member of the Furriers Guild of America, serving on its national board of directors, and served on Beth Shalom's board of directors. Dorothy, who worked alongside her husband for sixty-one years, belonged to the Beth Shalom Sisterhood.
Main Image: The redesigned storefront of Leon Ritter Furs, 1958. The State Newspaper Photograph Archive, Richland Library, Columbia, S.C.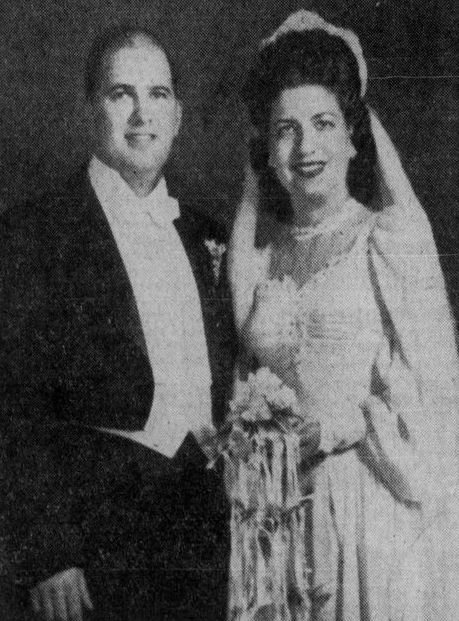 Above: Leon and Dorothy Kahn Ritter pictured after their marriage, 1946. Reprinted from The Columbia Record, December 10, 1947.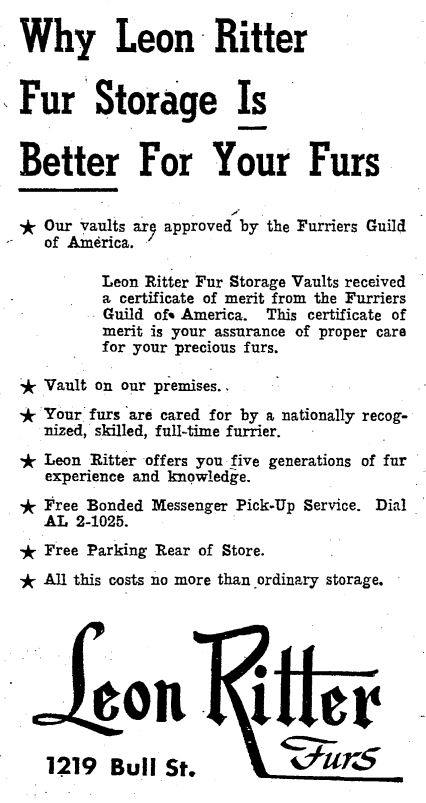 Above: Advertisement for cold storage at Leon Ritter Furs. Reprinted from The Columbia Record, May 6, 1958.