On October 5, 1927, Sumter newspaper The Watchman and Southron announced the near completion of negotiations between the Sumter Board of Trade and the Roseknit Hosiery Company of Providence, Rhode Island, which planned to relocate its mills to Sumter by the start of 1928. The company's owner, Martin Kenneth Rosefield (1898-1979), summarized the decision to relocate when he stated, "We manufacture sport hose and other worsted hosiery lines, and I feel that Sumter is ideally suited to our needs, being close to the source of the raw materials we need and having a fine shipping outlet." Through the spring of 1928, the company shipped its machinery south from Rhode Island. During that time, Martin Rosefield oversaw the dismantlement of the Rhode Island mill, while his father, Frank Louis Rosefield (1872-1955), oversaw the reestablishment of the mill in Sumter. Despite the mill's proximity to the endless cotton fields of the South, the Roseknit Hosiery Company filed for bankruptcy in 1932. The following year, Sumter attorney George D. Levy (1883-1972) purchased the mill as the agent of the Locke Cotton Mills Co. of Concord, North Carolina. Martin and his father remained involved in the hosiery business through the 1940s.
1 "New England Hosiery Company Comes to Sumter," The Watchman and Southron, October 5, 1927.
Main Image: Reprinted from The Item, April 24, 1930.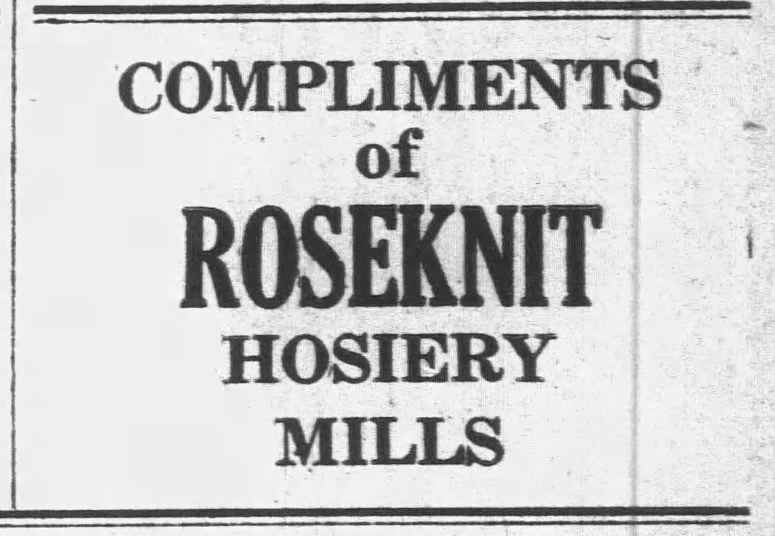 Above Image: Roseknit Hosiery Company advertisement. Reprinted from The Item, March 9, 1929.