Jack Krugman (1897-1982) immigrated from Zabludova, Poland to New York in 1915 with his mother and three siblings. He moved to South Carolina at the request of Chaim Becker, the patriarch of the Baker family, in 1923. He worked for the Baker siblings in Elloree, Estill, and Columbia in exchange for a stipend and room and board. He married Jean Getter (1906-1993), originally from Czortkow, Poland, in 1928 and together they opened Square Deal Jack's, or Jack Krugman's, at 1426 Assembly Street. In 1930, the store moved to 1432 Assembly Street, where Jack and Jean worked until their retirement in 1968. They had three children, Irene Krugman Rudnik (1930-2019), Dr. Stanley Krugman (b. 1934), and Dorothy Krugman Goldstein (1939-2016). Irene Rudnik, who worked as an attorney for nearly sixty years and represented Aiken in the South Carolina House of Representatives for seven terms, was passionate about educational and legal reform and the environment. Like her father, who served on the board of trustees at Beth Shalom Synagogue, she held several leadership roles at the Adas Yeshurun Synagogue in Aiken.
Main Image: Advertisement announcing the reopening of Square Deal Jack's." Reprinted from The Columbia Record, September 19, 1936.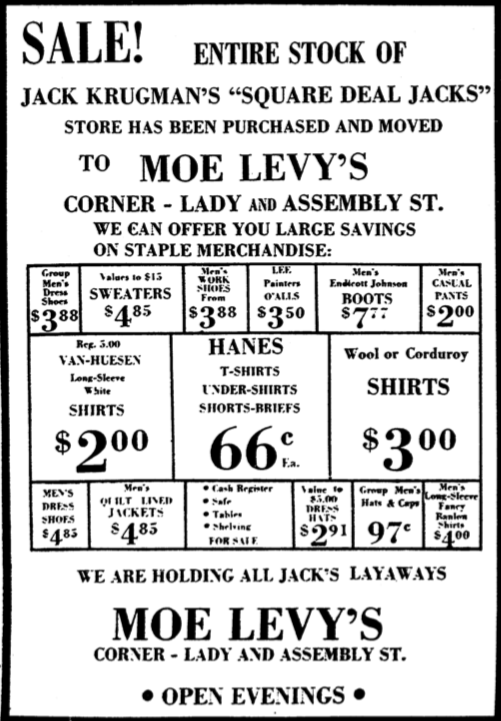 Above Image: Advertisement announcing the closure of Square Deal Jack's." Reprinted from The State, February 16, 1968.