According to Ida Berry Ginsberg (1914-1998), her father, Barnett Berry (1876-1943), emigrated from Russia around 1892.1 Upon his arrival in the United States, Berry lived in New York City for about two years, before he moved south to Columbia, South Carolina. There, around the turn of the century, he met and married Annie Levine (1879-1927), with whom he would have seven children. In 1898, Berry established shoe repair and dress shop B. Berry's at 1338 Assembly Street. By 1912, the store relocated to 1434 Assembly Street. The following year, the store relocated again, this time to 1416 Assembly Street. In addition to its Assembly Street location, B. Berry's added a location in northeast Columbia's Columbia Mall in 1977. After Barnett Berry's death, the business remained in the Berry family until it closed in 1989.
1 Ida Ginsberg, audio interview by Cydney G. Berry, 23 March 1996, Mss 1035-059, Special Collections, College of Charleston, Charleston, SC, USA. https://lcdl.library.cofc.edu/lcdl/catalog/lcdl:86547.
Main Image: B. Berry's advertisement. Reprinted from The Columbia Record, November 18, 1943.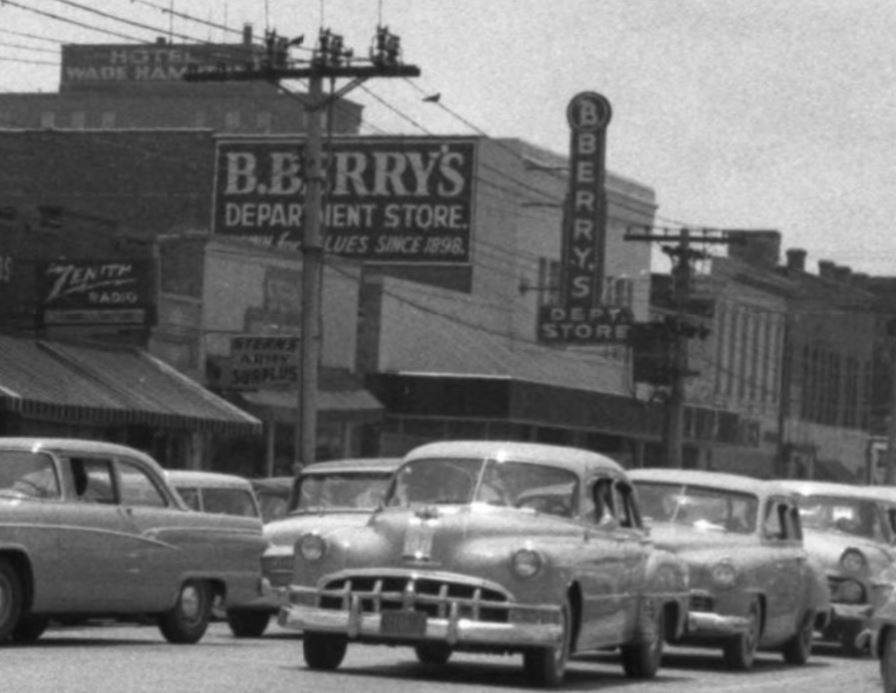 Above Image: B. Berry's at 1416 Assembly Street. Courtesy The State Newspaper Photograph Archive, Richland Library, Columbia, S.C.