Barrett Visanska (1848-1932) immigrated to the United States from Suwalki, Poland in 1869, following the footsteps of his older brother, Gersham Aaron "George" Visanska (1837-1915), who immigrated to the United States around 1854. Upon his arrival in the United States, Barrett made his way to South Carolina to work with Gersham in Ridge Spring and Abbeville. After a few months in those two towns, he moved to Columbia. According to an article that appeared in The State on January 1, 1930, when Barrett arrived in Columbia, he secured employment with Isaac Sulzbacher (1844-1920), a jeweler and watchmaker. Per the article, "after sticking at his new job for only a short while, Mr. Visanska rented a window around on Market (Assembly) street and went into the watch repairing business for himself."1 Around 1872, Barrett married German immigrant Rachel Trager (1848-1915), with whom he would have seven children. Two years later, Barrett moved his business to 103 Richardson Street (present-day 1400 Block of Main Street). By 1888, he relocated his business again, this time to a store he had built at 127 Richardson Street (present-day 1506 Main Street). In addition to jewelry, Barrett also sold clocks and musical instruments at his store. Music was an important part of the Visanska household, with children Bertha (piano) (1878-1948) and Daniel (violin) (1875-1936) both becoming renowned musicians. Around 1900, the Visanska family moved to New York City, where Barrett would open a jewelry shop. There they remained until around 1910, although Barrett continued to operate a jewelry store in Columbia at 1215 Hampton Street during their years away from the palmetto state. Upon returning to Columbia, Barrett went back to work in his Hampton Street store, which he operated until his death in 1932. After his death, the Visanska children operated the store until it closed in 1935.
1 "Visanska Here Longest Period," The State, January 1, 1930.
Main Image: Portrait of Barrett Visanska. Reprinted from The Columbia Record, January 8, 1922.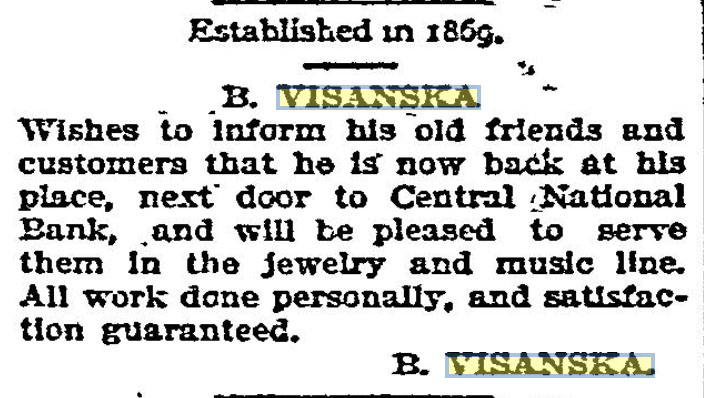 Above Image: B. Visanska advertisement. Reprinted from The State, November 18, 1893.