Louis Bodian (1904-1984) was born in Connecticut to Benjamin Bodian (born circa 1877), an Austrian native, and Rebecca Horenbein Bodian (born circa 1879), a native of Poland, just a few years after both immigrated to the United States. Louis Bodian spent at least the first 20 years of his life in Connecticut but had moved to South Carolina by 1933. That year, he married Edna Ringle (1907-1990), the daughter of Georgetown merchant, Jacob Max Ringel (1869-1941). From then until J.M. Ringel's death in 1941, Louis Bodian worked in his father-in-law's dry goods store. After Ringel's passing, Bodian established Bodian's Department Store. Bodian ran his eponymous department store on Front Street until his own death in 1984.
Main Image: Front Street, including Bodian's Department Store (second from left), June 1972. Image courtesy of the Georgetown County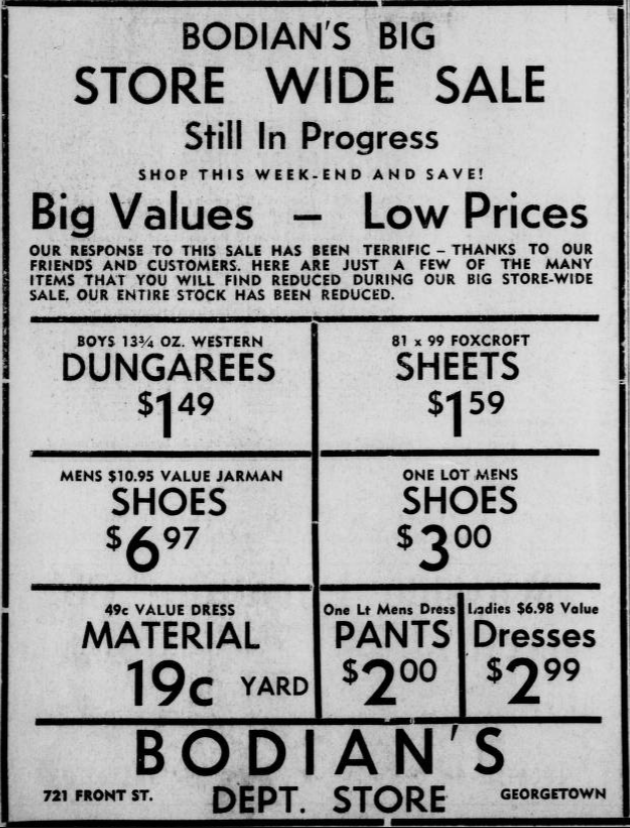 Newspaper advertisement for Bodian's Department Store. Reprinted from the Georgetown Times, February 15, 1962.