Heiman Kaminski (1839-1923) was born in Posen, Prussia (present-day Poland) to Joel and Hannah Kaminski. In 1854, at the age of 15, Kaminski immigrated to the United States, first settling in Charleston, South Carolina. By 1856, he had become a clerk in Elkan and Hannah Baum's store in Georgetown but by 1858, the Baum's and Kaminski had all relocated to Conway. In July 1861, Kaminski enlisted in the Confederate army. The army recognized his organizational prowess and made him a commissary, a role that further educated his business operating skills, taking him to Greensboro, North Carolina by the end of the war. In 1867, Kaminski returned to Georgetown where he co-founded a dry goods business with Sol Emanuel and W.W. Taylor. He established the Kaminski Hardware Company, and in 1869, acquired its store site at 633 Front Street. During his successful career in Georgetown, he was either the owner or partner of a dry goods store, a medical dispensary, a boat and oar company, a steamship, the Georgetown Rice Milling Company, the Bank of Georgetown, and other enterprises.
In 1881, Heiman Kaminski's first wife, Charlotte Emanuel (1840-1881), sister of Sol Emanuel, passed away in New York. In 1885, he married his second wife, Rosalie Baum (1861-1937), a South Carolina-native and cousin of his former employee, in New York. After Heiman Kaminski passed away in 1923, his son, Edwin Washington Kaminski (1868-1947), born in Georgetown, took over the operations of the business, formally chartering the company in 1926. After his death in 1947, his younger brother, Joseph R. Kaminski (1871-1955), managed the business until he passed away in 1955. The third-generation proprietor, Nathan Kiminski, Jr., son of Nathan Kaminski (1871-1974), was born in New Rochelle, New York. In 1935 began working at the family hardware store. In 1955, Nathan Jr. became the last president of the company. In 1973, the Kaminski family sold the store building at 633 Front Street, built in 1842, to the Georgetown County Historical Commission and dissolved the company, culminating a legacy of more than 100 years of business in Georgetown.
Above: Kaminski Hardware Company building at 633 Front Street, ca. 1972. Image courtesy of the Georgetown County Digital Library.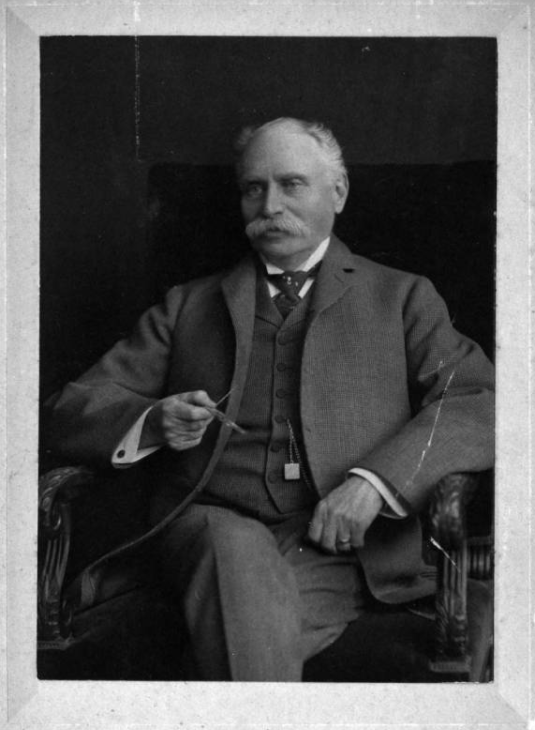 Heiman Kaminski, ca. 1880-1900. Image courtesy of the Georgetown County Digital Library.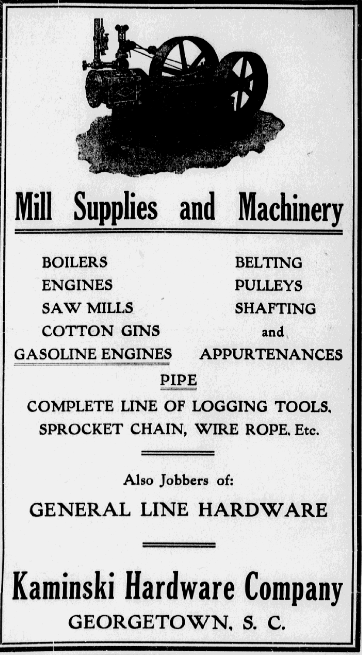 Advertisement for the Kaminski Hardware Company, 1909. Reprinted from the State, May 14, 1909.