Libby Friedman Levinson (1908-2000) was born in Grajewo, Poland, to Isaac Meyer Friedman and Baila Alpern Friedman. A few weeks before the outbreak of World War I, Isaac Meyer Friedman and his eldest son immigrated to the United States to support their family. During the war, Baila Friedman and her younger children lived in Bialystok, Poland. In 1918, the remaining members of the Friedman family immigrated to the United States, settling in Charleston, South Carolina. In the mid-1920s, Libby Friedman halted her education at business school and found work at Herbert's ladies' dress shop, a job that would help in her future career. In 1927 at Holly Hill, Libby Friedman married Charles Levinson (1900-1983), a Jewish Latvian immigrant. The newlywed Levinsons moved to Branchville and opened a store there. Over the next five years, the Levinsons struggled during the Great Depression, opening and closing several businesses across both Carolinas and Georgia. During this period they expanded their family with the birth of a son, Arnold, and daughter, Marjorie. In 1933, the Levinsons settled in Barnwell, South Carolina, and established a successful department store called The Leader. In the 1930s, Libby Levinson and her sister, Annie, began making buying trips to clothing wholesale dealers in New York City, Baltimore, and Chicago. At this time, it was rare for women to be involved in purchasing the stock for a clothing store, but the sisters would make the journey routinely about every eight weeks. The Leader was such a success that the Levinsons established like-branded stores across South Carolina in Estill, Edgefield, and Williston. In the early 1970s, the Levinsons retired and closed The Leader stores and moved to Columbia, South Carolina. In their retirement, they assisted their son, Arnold Levinson (1927-2014), at his four department stores, called Brittons, located at malls and shopping districts throughout the Midlands. In 1983, Charles Levinson passed away and in 2000, Libby Levinson passed away.
Above: Libby Levinson, 1927. Image courtesy of Margi Levinson Goldstein.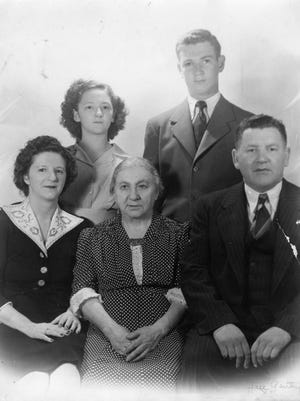 Levinson family, 1945. Front row: Libby Levinson, her mother Baila Friedman, Charles Levinson; back row: Margi Levinson and Arnold Levinson. Image courtesy of Margi Levinson Goldstein.