Prior to 1907, Charles Zaglin (1884-1937) attended a yeshiva in Vilna, Russia (current day Vilnius, Lithuania). In Vilna, he met Evelyn Rose Goldberg (died 1912), whom he married shortly thereafter. To avoid conscription into the Russian army, Zaglin immigrated to the United States in 1907. From there he worked in a kosher processing plant in New York City and eventually saved enough money to bring his wife and son, Sol Melton Zaglin (1906-1990), to the United States. The Zaglins then moved from town to town, wherever Charles could find work as a rabbi, shochet, and mohel. By 1912, they had moved to Greenville, South Carolina, where Evelyn birthed her fourth child and Charles became that city's first rabbi. After Evelyn tragically died later that year, Charles sent his children away to live with their aunts and uncles. He then opened a grocery store, Zaglin's Market, in Greenville around 1915, and remarried before the end of World War I. His second wife, Annie Glickman Zaglin (born c.1995), helped run the store. A trailblazer in the grocery business, Zaglin's was the first grocery store in Greenville to have refrigerated coolers and a freezer, and it eventually expanded to include an abattoir and delivery trucks. In poor health, Charles passed the store on to his daughter, Frieda Zaglin Kaplan (1908-2000), and son-in-law, Nathaniel Lover Kaplan (1909-1980), in 1937. The store closed a few years later.
Main Image: Evelyn Rose Zaglin and Rabbi Charles Zaglin, c.1910.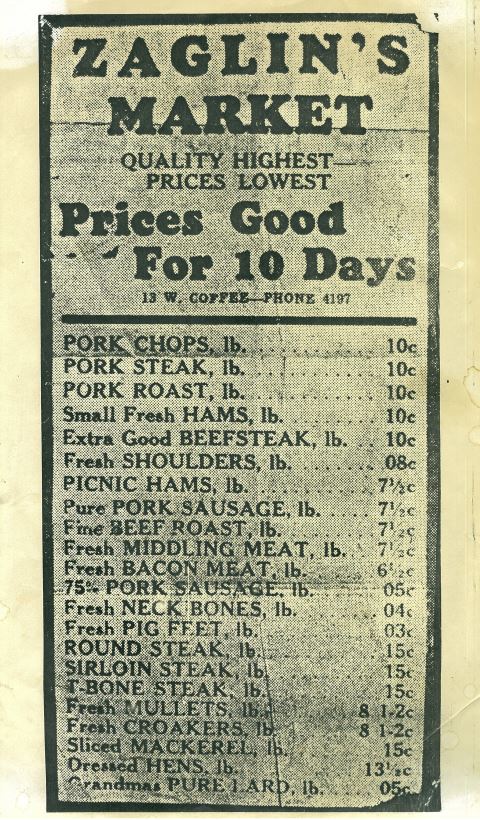 Above: Newspaper advertisement for Zaglin's Market, December 10, 1932. Courtesy Jeff Zaglin.